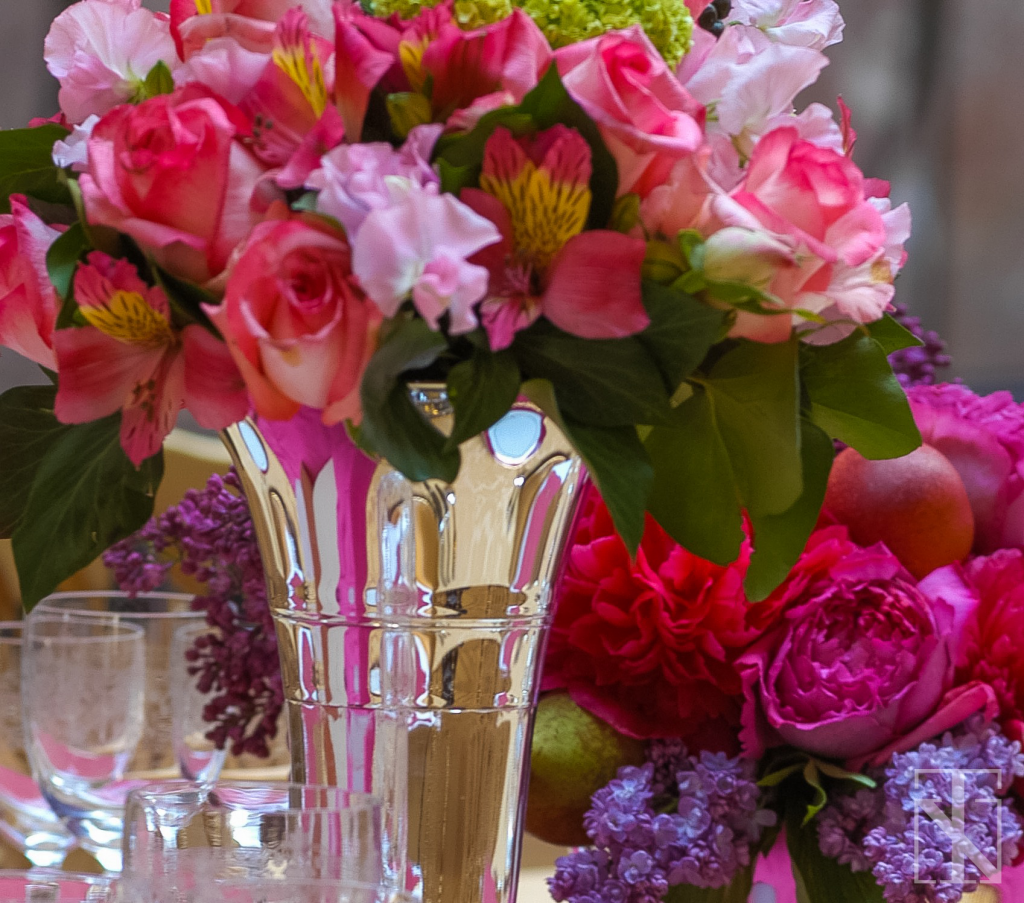 Perfectionism is something I dealt with my whole life. I remember a lesson I learned that helped me a great deal with perfectionism and design. I was working for the late great Robert Isabel on a production for a major New York socialite wedding, taking place on their property in the Hamptons. The wedding was a tented affair and the theme was a Garden Picnic. The goal was to make what was a rather large Happening, 500 people, feel personal and intimate.
The table centerpieces were to be flowers arranged in an assortment of glassn containers, which included water pitchers. I put together a range of glass vessels and flower arrangements that we could interchange from table to table then put it all together to show Robert a sample. Upon presenting the design to him, he came back and said "I like this one but none of the tables will be the same right?". I replied that we will vary the containers slightly from table to table but keep a flower consistency. With that he started to twist and pull the hair on his head and a look of dissatisfaction came over his face. Robert said "No that won't work. Every table has to be different containers and slightly different flowers I want this to look like it was produced by the family and friends out of their home and they just simply went in and pulled all of the Vessels they had in the house, filled them up with flowers from the garden and dropped them on the table for the guest to enjoy". I thought about this for a moment. Then I said "OK so you want me to go out and somehow find 150 to 200 different glass vessels and then arrange a huge production team of 15 to 20 florists designers with slightly different styles to put them together?" "That's it!" he says with a grin and walks out the room.
I sat back and thought how ironic it was that we had a client with the resources to provide for a complete matching set of vessels and flower arrangements to be purchased, assembled and used for this significant Happening, therefore delivering a perfectly precise and consistent result throughout the space. But then I realized once again that the master had taught me a very valuable lesson in human psychology as it pertains to entertaining. That was that: as a guest it is commonly expected, when being hosted by someone with significant resources, that they would put on a large lavish production that can often feel impersonal. What is not expected and could be much more enticing, is a very personal approach, providing a sense of intimacy and connection. Life's balance of imperfection and perfection resides in each of us; this is what makes us human. There is a graciousness and sophistication aided by uniqueness and acceptance of this belief.
Life is beautiful as it is!
So on that day many years ago, I was taught the great lesson to find the beauty in imperfection as there in lies great opportunity to communicate and connect with the greater audience. The beauty is in the mix!