Events vs Happngs
The definition of an event usually is defined as a happening of importance. When I think of events, things like birthdays, anniversaries, weddings and graduation award ceremonies with medium to large attendance come to mind. As events became my life's work, I found a much greater appreciation for their inherent ability to unite and reside in the infinite possibility of the present moment. These abilities are in our core being and when the opportunity presents itself the results are limitless and the keepsake exists in the form of a memory.
Less is More
A good friend of mine recently shared a story with me about how a person was writing a letter and at the end said "I apologize that the letter is so long I just didn't have time". How ironic but true. Our ideas and thoughts are so often brought to life in a flurry of energy that present us with countless options and opportunities on how to proceed. Only through iteration and a lot of grace are we able to refine our inspiration into something that simply can resonate on its own.
Better We than Me
Everyone knows the phrase "stuck in your own head". There's so much truth to that statement. The greatest and most exciting life altering conversations I have ever experienced have always been in the company of somebody else. Conversely some of the most damaging and uninspiring ones have taken place with my good old buddies between my ears with me, myself and I.
Happiness through Togetherness
I've had the good fortune recently to be connected with some truly inspiring people. One of them is Luis Gallardo the founder of the World Happiness Summit also known as WaHaSu.
Happening Feng Shui
Energy plays such a significant role in a happening. Feng Shui is a Chinese belief that aligns material elements with natural elements in order to create balance and harmony. I have a process that was inspired through Feng Shui that I apply to all of my happening Designs. Below are the three key elements:
The New Standard
I had a very interesting conversation the other night with my family at the dining table. My parents are in town to visit and we began talking about traditions as they pertain to dining and culture. There has been a long-standing debate between my wife and I as to which is the more desirable way to serve dinner: family style, buffet or plated.
Come One Call All
Such a common phrase but so hard to live by. Over the years I have been working tirelessly to create a more efficient and effective process for consumers to be able to take advantage of the great talents and resources available in an organized and informative way. Conversely, this process would allow for talents and resources to focus on delivering the task at hand rather than procuring customers and managing those relationships. At the onset the idea was so disruptive that it was viewed almost as a threat – thank God that over a short time a lot has changed in the realm of perception of technical integration and automation. If it were not for the great success of the Uber's and Airbnb's – I fear this great opportunity would have been cast aside simply due to perception.
Thank You, Dad
This past week I had the difficult task of wishing my father bon voyage from our journey here together on this heaven on earth. I know it sounds cliché but I am so grateful for the time we had together. By the time I came into the picture my father's career as a renowned Interior Designer was well on its way. From as far back as I can remember he had open the doors of his craft to me. He would call me his little associate.
A Five Star New Years Eve
This past week I had the good fortune of being invited to an event every night leading up to the grand celebration of New Year's Eve. The events are produced by Five Star and this is their fourth year producing the event in Miami and first year in Orlando. The Five Star team originated back in Brazil where they had for several years, produced a very sought after New Year's Eve Celebration. With a successful track record in Brazil, a country that really knows how to celebrate, they focus their attention on the US market and in particular Miami. As with any annual event, every year they need to get bigger and better. This was certainly the case for the Five Star events this year.
Full Story »
100 Million Holiday Trees
As far back as I can remember one of my favorite past times during the holiday season was laying under the Christmas tree gazing up through the branches , lights and ornaments. Christmas trees have been a celebratory statement for centuries. The tradition began in Germany and is now celebrated with an estimated 100 million Christmas trees around the world.
Share in this Holidays Presents
Clean Energy
Happening Foundation
Habit or Necessity – Part 2
Habit or Necessity – Part 1
Do you ever feel like you are doing something just for the sake of comfort and not need? This wonderful world we live in is progressing at such a rapid rate that it is not so much what we as a people can evolve into, but rather how much of this evolution I can absorb and apply into my daily life.
Full Story »
Happy Halloween!!
It took a while to get here but without a doubt fall is in the air! With its welcomed cool breeze and beautiful autumnal colors, I look forward with anticipation of this year's holiday season beginning with one of my favorites, Halloween!
Full Story »
Collaboration!
One of the things I enjoy most in the turning dreams into reality business of event design is the collaboration process. Entertaining is a very intimate process if handled properly. As mentioned in my previous blog , coming up with a singular theme and carrying it across all aspects of an event , is such an important element. Full Story »
Invitations the first impression

In a world that is going a million miles a minute – first impressions play such a significant role in setting the tone for your Happening. One of the best secrets in capturing an amazing invitation is to pull it from your overall Happening conceptual design. It often goes against peoples initial reaction to create invitation and get it out first or at least a save the date. I am all for being proactive in getting invitations out in a timely fashion; typically two months before is acceptable or a year to six months for the save the date. Full Story »
Go Long on One
A great way to get people present and build a lifetime memory is to take one common thing and focus on it; then weave that into your happening from beginning to end. Whether it is a sight, sound, texture, or a taste – infuse this one special element throughout. Let's use for example a sunset. This is an occurrence that happens every day in everyone's life, but by you sharing your appreciation of it and making it a focal point of inspiration, can unify yourself with your guests and in a very selfless fashion. There are so many points of inspiration that come to mind when I think of Sunsets; the conclusion of the day, the birth of the night, light to dark spectrum of colors associated with the sunset, enlightening glow of dusk, and the mysterious aurora of the night sky.
Now comes the fun part infusing it into the Happening. I always like to design my happenings backwards going from the big moment and working my way out. The obvious choice would be something like a ceremony at sunset. From here, I can envision what the color scheme for the environments to be playing with beautiful warm tones; pinks, oranges, and ambers. Throughout the scene from personal flowers to aisle runners and even accents on the wedding party's attire. For the cocktail reception to follow, keeping the theme, going by pairing colors of dusk to night throughout every aspect – decor, florals, lighting, tenting, and even entertainment. Use table linens starting with guest arrival table and ending with dining tables going from the bright to rich colors. The same thing can apply for the lighting. Printed goods like save the date, invitation, and menus, maybe just a slight fade of color from top to bottom. Or consider adding in a simple logo such as the silhouette of the circle we all see before the sun slips away – it could be beautiful when done in a foil stamp.
Think about sunset inspired dessert, a peach Carmel flambé could really be just the right feather in your cap! Add in a couple of songs dealing with a Sunset and night and you are there! Repeat, repeat, repeat! The choice is up to you to do it boldly or subtly, they both work! It's just a matter of preference.
When I think back on some of the greatest Happenings, they come always connected by one common denominator – infused by inspiration and brought to life through celebration!
That's Entertainment

The difference between an audience style entertainment and event entertainment is quite significant. However ironically we tend to choose entertainment for our events based upon the audience style performances.Full Story »
The Beauty Is In The Mix!
Perfectionism is something I dealt with my whole life. I remember a lesson I learned that helped me a great deal with perfectionism and design. I was working for the late great Robert Isabel on a production for a major New York socialite wedding, taking place on their property in the Hamptons. The wedding was a tented affair and the theme was a Garden Picnic. The goal was to make what was a rather large Happening, 500 people, feel personal and intimate.Full Story »
Live Your Dream!
The onset of new love brings a flurry of a spectacular series of significant moments that resonate to the core of our being. In the case of your true love, the experience incomparable and indescribable to any other! It is truly a magical gift! Full Story »
Love in Fall
With the fall season just around the corner. I eagerly anticipate the change. Growing up in the Midwest seasons offered for dramatic changes to both environment and lifestyle.
The Power of the Linen
One of the easiest ways to create an effect when entertaining is to introduce color to your linen selection. Whether it's a gathering of 2 or 2,000,a family dining room or a grand ballroom, linens play a significant role. A simple change of bringing in color through the table linen can change the whole feel of the room. This effect can be even more enhanced, when adding candles or lights to the table, drawing even greater emphasis on the linen. The effect works twofold. First, a set dining table, especially one with flowers, is always a focal point in any room. Therefore the introduction of color through the linen will heighten this impact. Second, in a dining environment a large portion of the time is spent at the table and the linen forms as the backdrop for this engagement. It not only frames the flowers, but the food and the guests as well.
Full Story »
Pick by Potential
Have you ever gone out looking at a home, and fell in love with a particular feature? Like a view? Now with that view set in our minds, we judge all other options against it. Did we consider that it was important due to the particular time of day that we walked in to the house? And that there was nothing else in the house but windows? Therefore all you really had to look at was empty space or a view? I too have gone down this path, and made choices based upon some particular feature. However more often than not after I have moved into the space, and made it a home, that particular feature no longer bears the same level of importance. A great example is a property I had not too long ago, it had the most spectacular water views and when I first saw the space the water views stuck in my mind. Year's later I realized that the water view at nighttime was just a black void, and the premium that I had paid for the view would have allowed for me to have a much larger space. In hindsight, I would have rather had more interior space then a water view that could only be appreciated during daytime.
Picking Space
I like to think of Happening spaces in three primary categories. First a raw space, second an event space, and third a multi-service venue. All of these can be indoors or outdoors, and in many cases a combination of both.
The power of we!
As far back as I can remember I've always been challenged by my shyness, the security of grabbing onto my mom or dad's leg when meeting someone new. Through my teens my shyness tendency often would overwhelm me. Things like the first day of school, or attending the dance were often dreaded as much as anticipated. The concept of burying my head in the sand, or the desire to just be a wallflower, frequently loomed in the forefront and was ever present in my subconscious. This is one of the many characteristics of my being that I don't completely understand, but have learned to accept and co exist with it. How ironic is it being created by togetherness, my relationships, food and shelter, transportation almost all vital components are a result of togetherness through a community. Yet often, I find myself overwhelmed or fearful of the connection.
Old Dog New Tricks
I'm not sure by who or when the phrase was coined, you can't teach an old dog new tricks. I am here to tell you that with the changes we as a people have made to embrace ease and convenience provided by technology, I think it would be fair to say that this statement does not apply across the board.
+++++++
What does it really cost all in? These days, planning anything can be so challenging when it comes to managing a budget. I find this experience to be even more overwhelming in my beloved events industry. When I first started, I learned very early on that when planning events everything is subject to change, and one of the biggest items was the bottom line. For the most part our industry is set to send out quotes factored on base prices, and mentioning different service fees, taxes and gratuity that will be added to the final bill. In many cases these additional fees are not tallied in the quote, and they all combined can add almost another 1/3 to the price!
Right Sized
Too short, too tall, too big, too small. The struggle to be right sized has been a lifelong endeavor. How do I measure up? This seemed to fluctuate as often as the wind. Ironically, the exception to the rule in most cases was being content and feeling right sized. Years ago, I was given the advice that I am perfect in my creators eyes. Although this did not set in instantly, overtime I have come to appreciate this thought. I believe in this world that there is a kind energy; this kind energy has me exactly as I am today. Although I'm not perfect at this process, I do practice, and the result is a feeling of connection and togetherness.Full Story »
Life's a Gift!
Along the way I was taught the phrase today is a gift… That's why it's called the present…
This has been such a valuable thought process for me to embrace; I have tried to incorporate it in all aspects of my life. I do have everything I need at this moment, the simple fact of being able to contemplate this thought, right here right now, is validation I am alive and conscious and that life is a gift.
Full Story »
Peace
I am so saddened by the news of the occurrence early Sunday morning at the Pulse nightclub in Orlando, Florida. The situation that took place is overwhelming and incomprehensible to me. My thoughts and prayers go to the family and friends, as well as all others affected by this horrific act.
Full Story »
Paint with light
With summer upon us it brings longer days. One of the many benefits of this, is entertaining in the evening and sharing in the transformation from day to night.
A sunset is something I do not think I will ever tire of. I only wish, I could remind myself more often when it's happening to stop and witness it. There is something so blissful and humbling, about watching that beautiful ball of light fall seemingly so quickly into the horizon, and all of the brilliant colors that typically follow thereafter. This marks the closing of the day, and brings on the beginning of the night! This transition falls into three parts; sunset, dusk then night. For the sunset and dusk, I like to let nature provide, when entertaining outside or in a room with good light. Sometimes additional lighting will be required, but only to balance out the darker areas with a touch of that daylight glow.
Morning Wedding
I love the fact that we are breaking down the barriers around the traditional wedding format. It makes sense as we as a people evolve, and grow, just in sheer numbers. We need to look at alternative ways to create and punctuate this life-altering happening. Ironically, one of the ways to break up the traditional Saturday evening ceremony and reception is to follow a format that has been around for centuries.
Passion!
I knew at the moment I had completed my first event that this was the beginning of my life's work. The process of helping to create these impactful, shared moments has become my passion. There is an intangible energy that is created when people gather together and share in a common focus, these special moments can never be replicated and can only be relished in the present.
Summertime!
I can't believe it! Time is going by so quickly here. We are already at Memorial Day weekend and I am still getting used to writing 2016. This marks the official kickoff of summer! Whether it's beaches, mountains or just simply your back yard, I encourage everybody to get out into nature and enjoy with family and friends.
Create and Attend
So after what seems to be an eternity of tossing and turning, I finally succumb, my pillow has it in for me, and that perfect angle of alignment to provide some blissful sleep will not be granted.
I shuffle my weary bones into the bathroom and in my sleep deprived state, I mistakenly turn on the lower faucet which turns on the handheld sprayer in the shower and cold water releases itself upon me. Every muscle in my body tenses immediately as I begin to cop an attitude, at whoever put that faucet there, thinking they must be cruel. From the shirt I wanted to wear having a missing button, to the self absorbed driver in front of me consumed by an apparently life altering phone call prohibiting them from hitting the accelerator, as the traffic to my right and left flies by me. With every continuing moment the odds of my situation improving seem to drastically decline.
I know we all have days like this. I remember one time going through a similar story, it involved a plane being delayed and my friend who was kind enough to listen came back at the end and said. "So I understand you were extremely inconvenienced, and you have alot of evidence to support your conspiracy theory, however how do you account for the other several hundred passengers that were also affected by this delay? I roll my eyes and that sinking feeling comes up on me and I come to the realization it's not all about me.
I have found this willful thinking can wreak havoc on every aspect of our lives especially during in event productions. The direction our thoughts can go in two ways. The first is of doom and conversely, the second is when everything starts to come together the way we had envisioned, we assume everything else should follow in the same path. It is like thinking that because the first half of riding bull went well the second half is a guaranteed success.
Through my experiences as an event designer I have been humbled by this process. Today I am a firm believer of that there is a significant difference between expectation and reality. This is a challenge for me because I am a dreamer, and my craft is turning dreams into reality. The good news is that I realize that if I don't hold my expectation so tightly, that reality more often than not will deliver something better.
When designing an event I take this concept very seriously. My philosophy is, put together a wide range of options that can be timed and executed in a great variety. Most importantly, not all of the options need to be executed in order for the Happening to be a success. If I were to use a beanbag toss game as a metaphor, and it was known that five beanbags were required to make it in the bucket to win the game. And lets say I would have on average one out of every two beanbags thrown would make it in the bucket. I would request 15 beanbags ensuring that I am well above my average to have success.
When running an event, I try to be focused on the goal of the experience, and not bogged down in the ever-fluctuating details of the production. Always making sure to deliver on the experience, and not get hung up on my preconceived expectations. By applying this process myself, my clients are able to relish in the moment. They are not dictated by our expectation but experience reality heightened by our efforts. As time goes by I have become so much more aware, that it is not so much what I do, but how I choose to react to situations that dictates my success. I try to apply this humility in all my affairs.
Create and attend the miracle together!
Better than we found it!
When I first came into the industry we would spend days weeks, even months preparing and building for an event, making sure the environment would set the stage. Ironically, at the conclusion of our event our teams would come in and dismantle, pack up, and load the majority of of the items so meticulously prepared just hours before. With tractor-trailers filled with items no longer needed, we would send it off to the local dump, where an often substantial fee would have to be paid. At the time we did not think twice about it, it was just part of our process. Now, many years later I look back at this and think there probably could be a significant sized ski resort built on the mound of disregarded waste from the events industry alone.
Is it worth it?
In today's world so many of us can have almost anything, at anytime, accessible to us at the press of a button. I hear people talking about significant moments coming up, and their dread in putting everything together. I've heard them saying it's just not worth all of that work to me. This is one of those moments when I use penance of tongue. And I'm sure, as many of you are reading this, you're saying, wait a second I too feel that way sometimes, it is too much work. My reply is, there is work
and a great deal of it. However it is that attention and effort that resonates in the results, as the saying goes nothing great without effort. I have a hard time with that mentality, of that it's just too hard to do and therefore to not do it at all. At home I have a similar conversation with my 13-year-old about school and his homework, and the response that I provide him is similar to the response that was provided to me by my parents.Full Story »
To Love As you Are
I love myself as I am with all of the benefits and shortcomings, always remembering I am right sized in my creator's eyes. I struggle with this concept often, it so much easier said than done. Ironically there is no required action other than acceptance. In my goal oriented world whether mental, physical or spiritual I always seem to be in pursuit of improvement.
Improvement is growth, and it is vital to my evolution. However without having acceptance of who I am today, I am limiting my ability to relate with those around me. As they only see me as I am, not who I aspire to be.
How to make a dinner reception for 200 feel as intimate as one set for 8
Thinking back on the days as a child playing on the playground during recess. I remember looking forward to that bell ringing and those doors opening so I could go out and hang out with my buddies. I am quite sure most of my classmates thought the same, although they were looking forward to hanging out with their own group of friends. More often than not, the idea of playing a game of kickball would come up.Full Story »
We Called it the Buttercream Slide
I love what I do this work is a lot of fun and sometimes very funny! I remember it was a perfect beautiful day and we were producing a wedding that was well underway. The lovely ceremony was completed and all of the 350 guests were enjoying cocktails and entertainment in the garden room adjacent to the ballroom. There were probably 40 or 50 of us in the ballroom, some lighting candles other's lining up plate-settings.
It's All in the Details!
Years ago, I was a young man who moved out to New York with a duffel bag and dreams of building a better life. My apprenticeship had just started with the late great Robert Isabell. Like it was yesterday, I remember we had a meeting at one of the top hotels in New York City and I was asked to join. Robert was a man of few words, and to be included in any public outing with him was a big deal!Full Story »
Think of your wedding as a play
The easiest way for me to describe creating and producing a spectacular wedding is to compare it to a play. For the couple to be married they hold the part of the lead roles. The members of the wedding party are the supporting actor's. The guests are the cast. The event designer/planner or event manager is your director. Location manager assistant director. Who ever is paying the bill producer.Full Story »
Why hire a wedding planner?
There's always a planner. I hear it all the time, do I really need a planner? The answer is unequivocally, Yes! bThis answer is as black-and-white to me as would I choose to operate on myself?I think where it gets confusing, especially with the to be wed is they think, l commonly plan my own parties and many with great results so why do I need a Planner?Full Story »
How to Create an Out-of-the-Box Wedding
Long gone are the days that weddings are confined to country clubs, hotel ballrooms and banquet halls. I will always remain committed to the classic wedding, however I must admit I love the creativity and expressionism that is being introduced more and more in today's weddings.
Traditional versus Modern Wedding
It's About Time.
How to have a gorgeous wedding on a budget
It's too bad that such a great sum of money, $10,000, is considered a challenging sum to pull off a beautiful wedding. In reality the beautiful wedding is not dictated by the budget but rather by creatively planning within your means. Here are three key points that will allow you to exceed expectations within your budgetary parameters
How to plan the perfect outdoor spring wedding
Whose senses do not connect with the sights, sounds and smells of a spring wedding? The beautiful scent of flowers blossoming, the glint of the sun reflecting on vibrant new spring leaves as a soft breeze blows!
To me this is what lifetime memories are made of!
So now comes the challenge! We can all agree that the perfect Spring day is the ultimate outdoor environment to set the stage for your nuptials.
If you are so inclined to have an outdoor springtime wedding, here 4 key tips to help you plan for the best but be prepared for most scenarios:
Engagement! What's next?
Putting a plan in place
Congratulations!
This is a very exciting time and one that is a joy and an honor to share with family and friends.
My recommendation is prior to sharing the news, talk with your partner regarding the weddings' vision. Whether it is recapping what has already been discussed or brainstorming on what it could be. I assure you it will prove to be tremendously beneficial and exciting!
How not to be a bridezilla
Over the years we have lost touch of what a wedding is really about.
The modern-day bridezilla is a result of our current narcissistic tendencies.
Ballroom Wedding Planning
When planning a wedding reception in a ballroom there are two key factors that if not properly manage can lead to unsatisfactory results.
Location, location, location!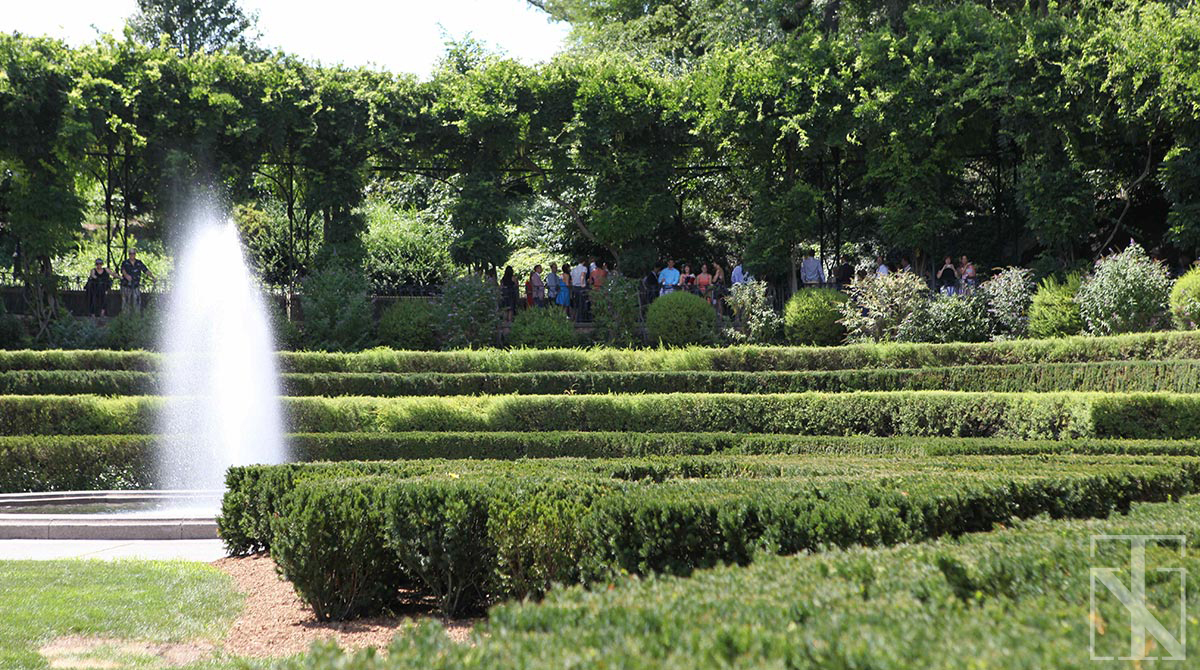 It is one of the key initial decisions to make and often the hardest to correct after-the-fact. Finding that perfect location that you can identify with and that fits your design esthetics, size, date and budget parameters are one of the most important decisions to make when planning a wedding. I often find it is impossible to aquire something that fits all the criteria, however if you do find this perfect location it is a Godsend. I recommend to strike fast while the iron is hot, this will make the next steps so simple. If you are like many people having a hard time, this is normal. Finding a location that fits 7 out of your 10 key criteria is perfectly acceptable. You will be able to offset some of the location's challenges by emphasizing or simplifying other areas in your planning process.
The Presents have Arrived
When I started my journey in the event industry, my very first event was a wedding. I was enamored and enthused through the privilege of participating in helping others and creating a wedding. My passion came in the creative state of working to shape and form something extraordinary. The moment announcing the union of two people, has given me the drive to exceed expectations.
Valentine's Day
There are a variety of ideas on what the origin of Valentine's Day is. Ultimately, to me, the day has evolved to the celebration of love. There are many definitions for love. The one that resonates with me the most is "an unselfish, loyal, and benevolent concern for the good of another."  
Secrets to a Successful Wedding
In this day and age, where we are catered and tended to on all aspects of our lives, it is easy to get lost in ourselves. You know the feeling we all get, from a one-sided conservation. When creating your wedding, focusing on the day for yourself rather than for your friends and family, will produce the similar results of a one-sided conversation.  One of the most important and keen secrets to a great wedding , is not to focus on you, but on the family and friends who will be celebrating with you!.
Spring is in the Air!
With the holidays now past and welcoming in the New Year, planning season is upon us! Each season brings individual characteristics to form the backdrop for your perfect and ideal happening. Spring is just around the corner and with it, brings a new life. Full Story »
Blessing During the Holidays
The holidays are a GREAT time to ask for a parent or loved one's blessing. It's the time to give from the heart and to recognize what we are grateful for.
As we celebrate each other, we all recognize the true meaning of family. What better way to unite, by popping the question to your significant other! Having a bit trouble on how or when is the right moment?
The Perfect Thanksgiving Dinner Decor
Thanksgiving is one of my most favorite holidays. The word alone "Thanksgiving" is all about giving thanks and being grateful for all of the bounty in our lives. The feast is representative of this but the people we get to share it with is where all the real joy comes from. But how do you plan and decorate for that perfect feast?
Trick or Treat? Themed, or Traditional?
Tom celebrates Halloween every year. Goblins, ghouls, monsters, costumes, and cocktails – what is there not to love about this festive holiday? However, Tom's favorite part of Halloween is it's liberating side-effect. It is the one day when you can break the "rules," emboldening even the shyest, most modest people to bring out their personalities in a big way! And when it comes to weddings, Tom's favorite part of planning is getting to know people on a personal level, with all quirks and idiosyncrasies intact. Uncovering these unique traits enhances his ability to accurately transform his clients' dreams and Halloween fantasies into an ultimate wedding-day reality!
Live Casting Your Wedding Online
It was the mid 90s and Tom Noel was working with Aerin Lauder on her Wedding. Her grandmother, Estee Lauder, was unable to attend this important moment which was of great concern to the entire family. Technology is not what it is today but was in rapid development, Tom and the team came up with the idea of sending a live signal direct to Estée Lauder.
Setting the Stage for the Big Day
Are you getting married soon? Or have you recently been dubbed the Maid of Honor and are at once delighted and petrified? Or are you simply an undeniable wedding enthusiast who seeks updates on the latest and greatest?
---